The Nascimento Foundation supports and creates programs to achieve a global understanding of peace through sports, storytelling and the arts as tools that facilitate diplomacy and development.
about us
Pelé has always been considered by his teammates, opponents and contemporaries as an athlete of extraordinary dedication, discipline and humility, who's focus and goal was always to inspire the children of his country. Football was the vehicle through which he tirelessly sought to bring peace and unity. In 1969, in Africa, in the country of Benin, the civil war was suspended in order to allow everyone to watch the friendly match between Pele's team and a local team. On the day of the match, the local authorities declared a holiday and authorized safe passage between Benin and Nigeria so that all citizens could attend.
Building a better future for the world's children has always been his goal and will be remembered as one of the traits of his legacy. After scoring his 1000th goal he stood on a podium and urged the world to take this moment and "look at the children".
During his career Pele has supported many social projects which have had substantive impact on society, especially for children. In Brazil, he has partnered with Hospital Pequeno Príncipe to form the Instituto Pele Pequeno Principe, a world reference hospital for pediatric treatment and critical research of complex childhood diseases.
It is to build upon these characteristics and principals that we, as Pele's daughters, founded Nascimento Foundation– peace, education and equality on a global scale, in order to build a sustainable future.
– Kely Nascimento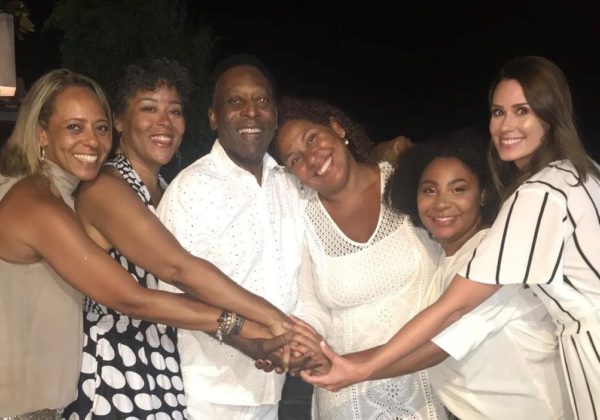 programs
Our programs symbolize the Nascimento family heritage and Pelé's passion for sports as a tool for diplomacy as well as to connect Futebol with sustainable impact and development. Sports and the arts can be used as a catalyst for dialogue and understanding that transcends barriers such as language, culture and religion. The Nascimento Foundation is committed to creating and sharing stories that achieve global unity and equality.
Equality
One of the greatest obstacles to the economic and developmental progress of any global community is gender inequality. From extreme poverty and hunger to the development of industry, innovation and infrastructure, gender inequality places a debilitating strain on the growth of society at large. The Nascimento Foundation continues to use the proven success of sports and the arts to facilitate safe spaces and provide capacity-building trainings on gender equality and prevention of gender based violence in sport, as well as promoting sport and the arts as tools for the empowerment of women and girls.
Women's participation increases the probability of a peace agreement lasting at least two years by 20 percent, and by 35 percent the probability of a peace agreement lasting 15 years – UN Women
Leadership
The principles inherent in sports and the arts are invaluable in the development and implementation of education programs which impart the necessary tools for confidence and leadership. Through these principals, the Nascimento Foundation creates programs and scholarships that support organizations which help in identifying, educating, fostering confidence and empowering young leaders from amongst the world's most vulnerable of populations.
We cannot always build the future for our youth, but we can build our youth for the future – Franklyn D. Roosevelt
Storytelling
In a world inundated with alarming statistics, it is in sharing narratives and accounts that we inspire, engage and involve this and future generations in the most pressing issues facing the world today. The Nascimento Foundation supports the creation of distinct content to give their stories and projects a powerful visual platform.
In a Forbes article on storytelling, neuroscientist Paul Zak concludes that hearing or seeing stories of real people who benefit from charitable giving is the single best way we have of triggering an emotional response. – Forbes
where we are?
The Nascimento Foundation believes in the core basic principles inherent to sports and the arts – team work and collaboration. By joining forces with global grassroots organizations, NGO's and schools, we will work to provide resources, education and the necessary tools to empower individuals and communities towards achieving substantive and sustainable progress. We are committed to fostering alliances through sports diplomacy and working in partnership to create a more kind and equitable world.
Sport has the power to change the world
– Nelson Mandela